Registration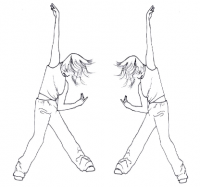 The Liphook Academy of Dance devotes itself to making dance an enjoyable experience for children of all abilities; providing lessons in ballet, tap and jazz/street dance to students aged between 3 (no nappies) and 18. The academy aims to enhance children's confidence, musicality, posture, and fitness within a fun learning environment.
All students are given the opportunity to perform in the annual show and to participate in local events including carnivals, fêtes and competitions.
Founded in 1995, the Academy has maintained an impressive pass rate in all I.S.T.D. ballet examinations.
To register with the academy, please download the registration form here, and return the completed form to the academy. For further information on classes or a trial lesson, please contact the academy using the details below or via the contact form.